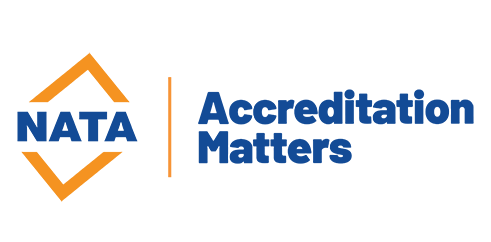 National Association of Testing Authorities, Australia
Scope of Accreditation
SafeWork NSW / Testsafe Australia
Date of Accreditation
18 Nov 1975
Contact
Mr Ravi Kant
P: +61 (02) 47244900
Availability
Services available to external clients
TestSafe Australia
ISO/IEC 17025 (2017)
Manufactured Goods
Service
Product
Determinant
Technique
Procedure
Limitations
Evaluation of fire risk (excluding electrical products) and fire mitigation performance
Belting
Combustion propagation; Flame propagation; Ignitability; Maximum surface temperature due to friction
Not applicable

AS 1334.10, AS 1334.11, AS 1334.12, AS 4606;




Conveyor belting

Fire extinguishers
Assessment of organic linings; Compaction; Discharge performance; Impact resistance; Pressure withstand
Not applicable

AS/NZS 1841.1 Clauses 3.4.2, 3.7, 3.8.2, 4.2, 4.5.1, 5.2, 5.3, 6.5, 6.9, 6.10, 6.11, 6.12, 6.13(b), 6.13(c);

AS/NZS 1841.2 Section 5;

AS/NZS 1841.5 Section 5;

AS/NZS 1850 Section 2, 3, 4 & 8 (including off-site testing);

AS/NZS 4353 Clauses 3.3, 3.4, 3.5, 4.2, 7.2, 7.3, 7.9, 7.10, 7.12, Section 9, Appendix B

Hose and hose assemblies
Combustion propagation
Not applicable

AS 2660 Clause 2.1

Fire resistant anti static (FRAS) hoses

Material performance evaluation of elastomers, plastics and composite products
Belting; Hosing material
Electrical resistance
Not applicable

AS 1334.9, AS 2660 Clause 2.2, AS 4606;

ISO 2878 Methods 8.1, 8.2 and 8.3

Conveyor belting

Performance evaluation of engine systems - Analysis of engine exhaust emissions
Exhaust emissions
Carbon dioxide (CO2); Carbon monoxide; Hydrocarbons; Methane; Nitrogen - Oxidised; Oxygen
Chemiluminescence; Flame ionisation detector (FID); Nondispersive infrared (NDIR); Paramagnetic cell
AS 3584.4,
AS/NZS 3584.2,
MDG 43 with reference to MDG29,
In-house method MWI040
Performance evaluation of engine systems - Physical testing
Engines
Engine protection system performance; Exhaust gas temperature at rated power; Exhaust temperature at maximum achievable power; Fluid usage rate; Fuel consumption; Fuel range; Hydrostatic performance of in-take and exhaust systems; Load speed characteristics; Maximum inlet air temperature; Maximum surface temperature; Spark arrestor component performance; Sub-assembly component performance to prevent the propagation of flame or an explosion to the outside atmosphere; Water usage rate
Not applicable

AS 3584.1 Appendices B, C, D, E

AS 3584.2 Appendices B, C, D, E, G, H
AS 3584.4


AS/NZS 3584.1 (2008) Section 4, Appendices B, C, D, E, F, G

AS/NZS 3584.2 (2008) Section 4, Appendices B, C, D, E, F, G, L, M

MDG 43 section 3.3, 3.4 and 3.5 with reference to MDG29
Performance evaluation of personnel protection equipment and general ballistic measurements
Protective helmets
Electrical insulation resistance; Penetration resistance; Shock absorption; Stiffness; Thermal performance; Thermal stability at elevated temperatures
Not applicable

AS/NZS 1801 Appendices A, B, C, D, E

Type 1 and 2 Industrial safety helmets.

The only data displayed is that deemed relevant and necessary for the clear description of the activities and services covered by the scope of accreditation.
Grey text appearing in a SoA is additional freetext providing further refinement or information on the data in the preceding line entry.