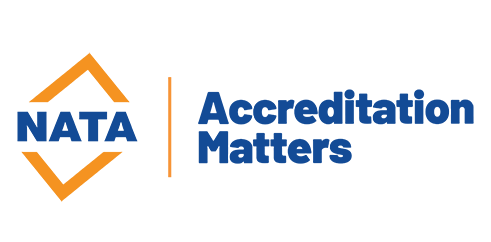 National Association of Testing Authorities, Australia
Scope of Accreditation
Queensland University of Technology
Site
Australian Translational Genomics Centre (ATGC)
Date of Accreditation
26 Sep 2017
Address
Translational Research Institute, Level 7, 37 Kent Street
Woolloongabba, QLD 4102
Australia
tri.edu.au/ATGC
Contact
Mr Sushil Narayan
P: +61 (07) 34437280
Availability
Services available to external clients
Supervision
Not Applicable
Australian Translational Genomics Centre (ATGC)
ISO 15189 (2012)
Human Pathology
Service
Product
Determinant
Molecular genetics - Bioinformatic analysis
DNA sequences
Primary analysis - Conversion of instrument file to FASTQ or FASTA file; Secondary analysis - Alignment and variant calling; Tertiary analysis - Data annotation and interpretation
Molecular genetics - DNA extraction
Blood; Saliva; Tissues
Viable DNA for sequencing
Molecular genetics - DNA sequencing
Blood; Formalin fixed paraffin embedded tissue sections; Hair; Tissues
Incidental germline whole exome sequencing; Sequenced DNA utilising massively parallel sequencing technologies; Somatic whole exome sequencing

Incidental Germline findings in a restricted number of genes.BRCA1,BRAC2,ATM,CHEK2,PALB2

Molecular genetics - Screening for an unknown mutation - Microarray analysis for inherited (germline) DNA/RNA changes
Blood; Extracted DNA; Saliva
Nucleic acid analysis for unknown variants

Wet lab only, No Bioinformatic analysis.
The only data displayed is that deemed relevant and necessary for the clear description of the activities and services covered by the scope of accreditation.
Grey text appearing in a SoA is additional freetext providing further refinement or information on the data in the preceding line entry.