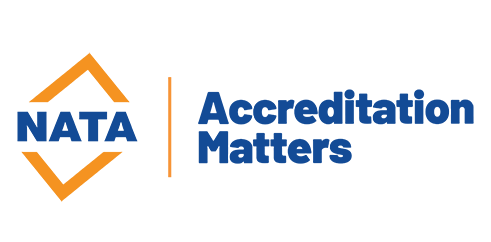 National Association of Testing Authorities, Australia
Scope of Accreditation
Central Coast Local Health District/Gosford - Cancer Day Unit
Site
Cancer Day Unit – Gosford Hospital
Date of Accreditation
06 Nov 2012
Contact
Mrs Nicole Johnson
P: +61 (02) 43209635
Availability
Services available to external clients
Supervision
HC (Haemopoietic collection)
Cancer Day Unit – Gosford Hospital
ISO 15189 (2022)
This facility complies with the relevant National Pathology Accreditation Advisory Council (NPAAC) requirements.
Human Pathology
Service
Product
Determinant
Immunopathology - Procedures related to the collection, processing, storage and issue of human haemopoietic progenitor cells

Allogeneic collection Product sent to 19752-23014

Haemopoietic progenitor cells
Human progenitor cell collection
The only data displayed is that deemed relevant and necessary for the clear description of the activities and services covered by the scope of accreditation.
Grey text appearing in a SoA is additional freetext providing further refinement or information on the data in the preceding line entry.