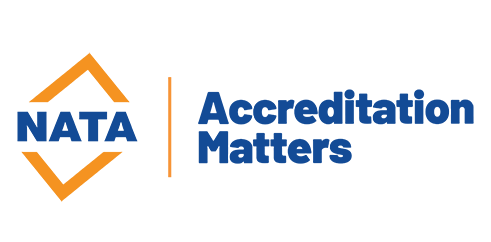 National Association of Testing Authorities, Australia
Scope of Accreditation
Royal Perth Hospital - Cell and Tissue Therapies WA (CTTWA)
Site
Cell & Tissue Therapies WA (CTTWA)
Date of Accreditation
22 Oct 2015
Contact
Dr Zlatibor Velickovic
P: +61 (08) 92241987
Availability
Services not available to external clients
Supervision
HPS (Haemopoietic processing, storage)
Cell & Tissue Therapies WA (CTTWA)
ISO 15189 (2012)
This facility complies with the relevant National Pathology Accreditation Advisory Council (NPAAC) requirements.
Human Pathology
Service
Product
Determinant
Haematology - Full blood examination
Blood
Erythrocyte count (red blood cell count, RBCC); Haematocrit (packed cell volume, PCV); Haemoglobin (Hb); Leucocyte count (white blood cell count, WBCC); Mean corpuscular haemoglobin (MCH); Mean corpuscular haemoglobin concentration (MCHC); Mean platelet volume (MPV); Platelet count; Red blood cell distribution width (RDW)
Immunopathology - Characterisation of leucocyte surface antigens (including immunophenotyping)
Blood; Bone marrow
CD16; CD19; CD3; CD34; CD4; CD45; CD56; CD8; Total leucocyte number; Total lymphocyte number; Viable cell count
Immunopathology - Procedures related to the collection, processing, storage and issue of human haemopoietic progenitor cells

Products received from AN 19801 SN 23095 and AN 19786 SN 23076

Bone marrow; Cord blood; Haemopoietic progenitor cells
Processing; Storage (includes freezing/thawing)
The only data displayed is that deemed relevant and necessary for the clear description of the activities and services covered by the scope of accreditation.
Grey text appearing in a SoA is additional freetext providing further refinement or information on the data in the preceding line entry.