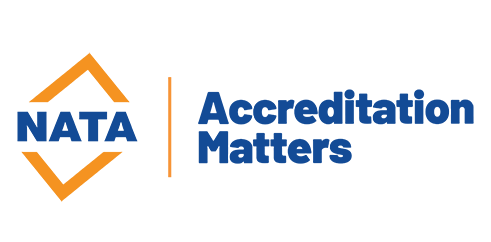 National Association of Testing Authorities, Australia
Scope of Recognition
Peter MacCallum Cancer Centre
Date of Accreditation
22 Dec 2017
Address
305 Grattan Street
Melbourne, VIC 3000
Australia
petermac.org
Contact
Ms Cathy Carolan
P: +61 (03) 85595409
Availability
Services not available to external clients
Nexomics
ISO/IEC 17025 (2017), ISO 15189 (2012) and the OECD GLP Principles (1997) interpreted for research (2)
The OECD Council Decision on the Mutual Acceptance of Data is not applicable to this work.
Healthcare, Pharmaceutical and Media Products
| Service | Product | Determinant | Technique | Procedure |
| --- | --- | --- | --- | --- |
| Conduct of research and testing of biological agents | Human biological samples - Clinical trials; Human biological samples - Pre-clinical studies | Impact on disease and treatment outcomes | Cytogenic preparation - Blood and bone marrow; Enzyme linked immunosorbent assay (ELISA); Flow cytometry - Immunophenotyping; Fluorescence in-situ hybridisation (FISH); Immunohistochemistry; Isolation and storage of peripheral blood and bone marrow mononuclear cells; Milliplex magnetic bead assays | Secure storage of samples for sample / evidence integrity and chain of custody is maintained |
The only data displayed is that deemed relevant and necessary for the clear description of the activities and services covered by the scope of accreditation.
Grey text appearing in a SoA is additional freetext providing further refinement or information on the data in the preceding line entry.