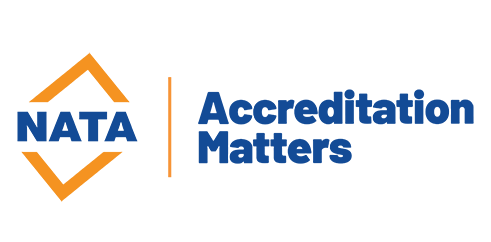 National Association of Testing Authorities, Australia
Scope of Accreditation
Site
NSW Health Pathology St George Hospital Laboratory – NSW Health Pathology St George Bone Marrow Transplant Laboratory
Date of Accreditation
24 Feb 2000
Contact
Mrs Ivy Fong
P: +61 (02) 93829106
Availability
Services available to external clients
Supervision
HPS (Haemopoietic processing, storage)
NSW Health Pathology St George Hospital Laboratory – NSW Health Pathology St George Bone Marrow Transplant Laboratory
ISO 15189 (2012)
This facility complies with the relevant National Pathology Accreditation Advisory Council (NPAAC) requirements.
Human Pathology
Service
Product
Determinant
Immunopathology - Characterisation of leucocyte surface antigens (including immunophenotyping)
Blood
CD25
CD25
Immunopathology - Procedures related to the collection, processing, storage and issue of human haemopoietic progenitor cells

Products received from AN18692 SN 20724; Autologous processing

Haemopoietic progenitor cells
Processing; Storage (includes freezing/thawing)
The only data displayed is that deemed relevant and necessary for the clear description of the activities and services covered by the scope of accreditation.
Grey text appearing in a SoA is additional freetext providing further refinement or information on the data in the preceding line entry.