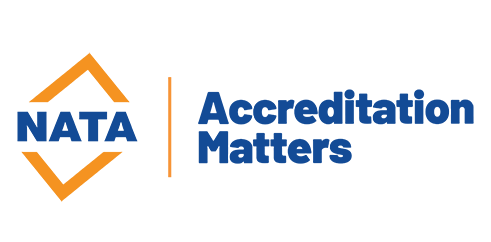 National Association of Testing Authorities, Australia
Scope of Accreditation
Date of Accreditation
30 Mar 2021
Contact
Ms Emma Mackay
P: +61 (03) 94966859
Availability
Services available to external clients
Seymour Health
ISO 15189 (2012)
This facility complies with the relevant National Pathology Accreditation Advisory Council (NPAAC) requirements.
Human Pathology
| Service | Product | Determinant |
| --- | --- | --- |
| Chemical pathology - Further investigation of cardiac function | Blood | Troponin I |
| Chemical pathology - Investigation and determination of hepatic, cardiac, bone, skeletal muscle and other profiles and metabolic studies | Blood | Bicarbonate; Calcium - Ionised; Chloride; Creatinine; Glucose; Potassium; Sodium; Total carbon dioxide (TCO2); Urea |
| Chemical pathology - Quantitation of blood gases and other measurements (performed on the same specimen) | Blood | Base excess; Lactate; Partial pressure of carbon dioxide (pCO2); Partial pressure of oxygen (PO2); pH |
| Haematology - Full blood examination | Blood | Haematocrit (packed cell volume, PCV); Haemoglobin (Hb) |
| Haematology - Haemostasis related analysis (including special coagulation testing and platelet function tests) | Blood | International normalised ratio (INR) |
The only data displayed is that deemed relevant and necessary for the clear description of the activities and services covered by the scope of accreditation.
Grey text appearing in a SoA is additional freetext providing further refinement or information on the data in the preceding line entry.