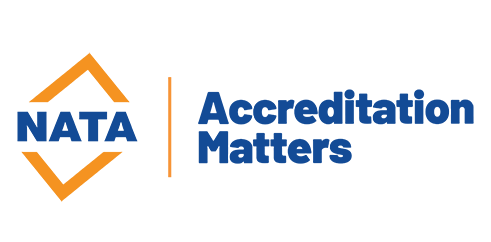 National Association of Testing Authorities, Australia
Scope of Accreditation
Lyberty Pty Ltd - Point of Care Diagnostics Australia Pty Ltd
Site
Apple City Family Medicine Pathology
Date of Accreditation
13 Feb 2015
Address
260 Anson Street
Orange, NSW 2800
Australia
acfm.com.au
Contact
Dr Paul Drabsch
P: +61 (02) 63614016
Availability
Services conditionally available to external clients
Supervision
M (Medical Practice)
Apple City Family Medicine Pathology
ISO 15189 (2012)
This facility complies with the relevant National Pathology Accreditation Advisory Council (NPAAC) requirements.
Human Pathology
Medicare expiry date
19 Oct 2025
Last Activity Date
28 Jul 2021
Service
Product
Determinant

Suspended

Haematology - Haemostasis related analysis (including special coagulation testing and platelet function tests)
Blood
International normalised ratio (INR); Prothrombin time (PT)
Chemical pathology - Diagnosis and management of diabetes mellitus
Blood
Glycated haemoglobin (HbA1c)
Chemical pathology - Investigation and determination of hepatic, cardiac, bone, skeletal muscle and other profiles and metabolic studies
Urine
Albumin/creatinine ratio (ACR)
The only data displayed is that deemed relevant and necessary for the clear description of the activities and services covered by the scope of accreditation.
Grey text appearing in a SoA is additional freetext providing further refinement or information on the data in the preceding line entry.