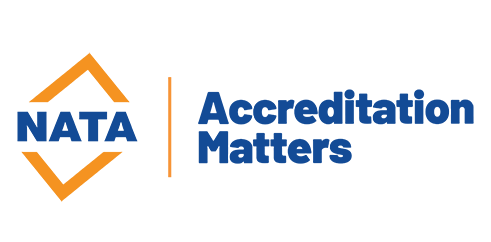 National Association of Testing Authorities, Australia
Scope of Accreditation
Site
Essendon 2 Laboratory
Date of Accreditation
27 Jun 2012
Address
Essendon Family Medical Centre, 1/143 Napier Street
Essendon, VIC 3040
Australia
svhm.org.au
Contact
Ms Valena Braniff
P: +61 (03) 92314595
Availability
Services not available to external clients
Essendon 2 Laboratory
ISO 15189 (2012)
This facility complies with the relevant National Pathology Accreditation Advisory Council (NPAAC) requirements.
Human Pathology
Medicare expiry date
17 Aug 2026
Last Activity Date
17 Jun 2021
| Service | Product | Determinant |
| --- | --- | --- |
| Chemical pathology - Diagnosis and management of diabetes mellitus | Blood | Glycated haemoglobin (HbA1c) |
The only data displayed is that deemed relevant and necessary for the clear description of the activities and services covered by the scope of accreditation.
Grey text appearing in a SoA is additional freetext providing further refinement or information on the data in the preceding line entry.