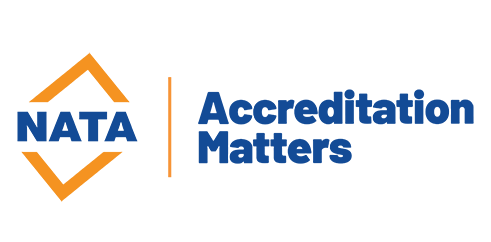 National Association of Testing Authorities, Australia
Scope of Accreditation
Site
NSW Health Pathology Liverpool Hospital Aboriginal Health CHC
Date of Accreditation
13 May 2020
Availability
Services not available to external clients
NSW Health Pathology Liverpool Hospital Aboriginal Health CHC
ISO 15189 (2012)
This facility complies with the relevant National Pathology Accreditation Advisory Council (NPAAC) requirements.
Human Pathology
Medicare expiry date
10 Aug 2025
Last Activity Date
10 Feb 2022
| Service | Product | Determinant |
| --- | --- | --- |
| Chemical pathology - Diagnosis and management of diabetes mellitus | Blood | Glycated haemoglobin (HbA1c) |
| Chemical pathology - Investigation and determination of hepatic, cardiac, bone, skeletal muscle and other profiles and metabolic studies | Urine | Albumin; Albumin/creatinine ratio (ACR); Creatinine |
The only data displayed is that deemed relevant and necessary for the clear description of the activities and services covered by the scope of accreditation.
Grey text appearing in a SoA is additional freetext providing further refinement or information on the data in the preceding line entry.